It was two days before my big trip to Peru when my husband called me and asked, "Hey do you know that it is winter in Peru?"  My response was a little like this alpaca's…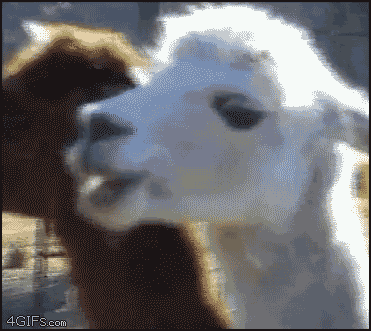 I guess I just assumed because it was South America and I was in North America that it would be summer there too.  WRONG!  I spent the last two days before my trip in Old Navy's winter clearance section and in my basement in totes fishing out appropriate clothes.  Don't make the same mistake I did.  Hopefully this post will help you to be better prepared for a trip to Peru in July.
According to Lonelyplanet.com, June-August is the high tourist season in Peru due to North American and European holidays.  Also, May-September is the winter season which is the driest and therefore the best time of year to travel.  The days are longer at this time which offers clear blue skies and great views of the mountains.  The day temperature ranges between the 50-70s Fahrenheit.  The nights and early mornings are cold but the days are pleasant.
Since you are more than likely going to Peru to tour the historical Inca ruins, and the wondrous landscape, you'll probably head out during the early morning to avoid the crowds and return to your accommodation sometime in the afternoon or at night.  So the way you dress will be very important.  Here is the key word, 'LAYERS'.
When you head out in the morning, it will be cold, so you might think that a winter coat will be just what you need.  But, don't be fooled my friend because by late morning it will begin to warm up and you will be hot.  Instead wear cute leggings under some jeans, a tank top under a t-shirt, a long-sleeve shirt over the t-shirt and a hoodie, or instead of the long-sleeve shirt and hoodie simply wear a heavy fleece jacket that you will be able to remove and tie around your waste.  Ideally, you want to be cute and warm and then cute and cool without having to pack extra clothes in your backpack and look for a bathroom to change into.   In the morning I was layered up but by early afternoon, I had removed 1-2 layers and stuck the pants into my backpack and tied the jacket or hoodie around my waste.
Here's what I packed for my 7 day trip:
3 pairs of jeans (worn twice)
4 pair of tights (two fashionable- 1 worn alone, the other worn twice under jeans, two fitness- both worn twice under jeans)
4 tank tops
1 thermal (worn twice)
4 t-shirts
4 long sleeve tops and a button down
3 hoodies (2 fleece)
1 heavy fleece work jacket
1 pair of sneakers
1 pair of Ugg boots for hiking
2 pair of warm pajamas
1 rain poncho (rain does happen even in the dry season)
an umbrella
1 backpack
2 scarves for my head that could also be used around my neck
a hat but you can buy one there, there are many available for purchase
sunglasses
Garmin watch to count all my steps
Remember the key word, 'Layers' and you should be fine.  Have fun and send me pictures.