My group of 6 that I traveled to Cape Town with included 2 vegetarians, 3 carnivores and me, a veganere (yeah I just made that up) who sometimes cheats with seafood. Finding places to eat where we all could enjoy our meals may seem tiresome but we made it work. In this post, I will highlight a few places where we ate, some vegan, some mixed, and my review of them.
Before I get into to these reviews, I need to first recommend an app my girlfriend put me on on to: Happy Cow. Make sure to download this app when you are traveling to find local vegan spots and restaurants that offer vegan and vegetarian options. It will come in handy. Although, I had done some research on some places to eat vegan in Cape Town, the app proved extremely helpful to finding spots that were close to wherever I was located. Okay, on to the good stuff.
Restaurant: Hungry Herbivore– it is a bit unfair to start with this one because in my opinion it is the best but it was also the first restaurant we visited in Cape Town. We went for an early dinner.
Location: They have two locations. We visited the one located at 11 Orphan Street.
Ambiance: It's a intimate restaurant with table and bar seating.
Service: The service is good. Servers bring you menus and explain them while also offering their preferences.
Food (click food to see the menu): Amazing. Go more than once and try everything. Personally I recommend the fries, loaded or regular, Oh Sweet Kim Burger, french toast and The Cleanse- fresh juice (best green drink I ever had). My only regret is that I was too full for dessert.
Hearts: ♥ ♥ ♥ ♥ ♥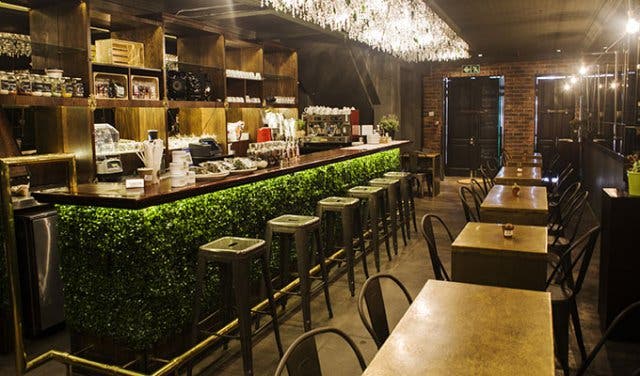 Restaurant: Royale Eatery– a burger joint that offers carnivore, vegetarian and vegan options. We went for lunch while shopping on Long Street.
Location: 273 Long Street
Ambiance: Inside has a diner feel with booths and regular seating.
Service: The service was good but my husband ordered a salad and it took the longest. Our waitress was nice and when we told her we ate at the Hungry Herbivore, her face cringed. I guess they are in competition for the best vegan burgers. Sorry Royale Eatery, the Hungry Herbivore has you beat.
Food: The food was good. I must compliment them on their extensive menu and variety of burgers.
Hearts: ♥ ♥ ♥ ♥
Restaurant: The Old Biscuit Mill. While this is not really a restaurant it is more of a collection of restaurants. It gets honorable mention because all of us were able to get good food here and it is not to be missed on your trip to Cape Town.
Location: 375 Albert Road, Woodstock Cape Town
Ambiance: It is outside but with tent coverings and stores to go into, you can escape the heat. There is live music and wonderful people everywhere. There are clothing and art shops. There is food for everyone as well as drinks.
Service: Well it's pretty crowded but we never waited in line for more than 10 minutes to get anything.
Food: There is all kinds of food, from bison to sushi. I enjoyed a vegan edo wrap which was very delicious and some Sangria which was also so delicious I went back for seconds. I purchased some vegan desserts to take back to our Airbnb but they were not good. I wish I remembered the name of the restaurant, so I could tell you not to go there.
Hearts: ♥ ♥ ♥ ♥ (The distasteful vegan dessert made me take away a heart but the Old Biscuit Mill really deserves 5)
Restaurant: Tasha's– contemporary, urban, boutique café. Everyone that I spoke to prior to going to Cape Town talked about this Butternut Squash Salad that I just had to get at Tashas.
Location: Several locations around the world, from Johannesburg to Abu Dhabi. We visited the one at the Shop 7117, Victoria & Alfred Waterfront, Cape Town.
Ambiance: Warm and welcoming with flower pots hanging from the ceiling and plants around. You can sit inside or out.
Service: The service was slow at first but then it picked up.
Food: Of course I had the Butternut Squash salad. That's the featured image above. The salad did not disappoint. I've never tasted butternut squash semi charred, sweet and delicate. It was a nice addend to a salad. I also had some beer-battered cauliflower which was yummy. I would definitely return to Tasha's for more.
Hearts: ♥ ♥ ♥ ♥
Restaurant: We went to Jarryds, Espresso Bar and Eatery. A restaurant that boast a commitment to sourcing locally produced and seasonal produce.
Location: 90 Regent Rd, Sea Point, Cape Town
Ambiance: The restaurant reminded me of a train station stop, glass encased and airy, tall vaulted ceilings and seating for large groups.
Service: The service was great with several people attending to us.
Food: I was disappointed that the only true vegan item on the menu for breakfast that I wanted to order was no longer available- The Vegan 'Nice' Cream Slice. Instead I ordered The Summer Quinoa Breakfast bowl without the poached egg. The breakfast bowl was great and my husband's potatoes were too. Everyone enjoyed their meal and wished we had come sooner because we were leaving Cape Town that day.
Afterwards, we met Jarryd and he was sorry about the breakfast item. He assured me that next time, I could request to speak with the chef or himself and they would make accommodations to suit my preference.
Hearts: ♥ ♥ ♥ ♥ ♥ (normally I would take a heart due to not having what I wanted but because everything else was so good and they were so nice, 5 hearts)
We visited other restaurants but I didn't feel like they deserved to be discussed in detail. I really wish we had an authentic African dining experience. We visited an Ethiopian restaurant, Addis in Cape, but I was disappointed as outside of salads there wasn't any options for me. Cape Town is a real gamey eating city, so carnivores will love it and can experience something new and different. We vegans have a little bit of a tougher time as usual.