Yesterday, Darryl and I got up early to go check out the Torba Farmer's market in Education City. I'd seen the advertisements all over Ed City when we traveled to class every Monday and Wednesday and I'd heard about it in several of the food groups on Facebook. It was underwhelming with maybe 12 stands of merchants selling handmade items and food. However, we did try out a Vegan Hazelnut Crepe which was tasty but could use some powdered sugar on top. We also purchased a cup of lemonade with chili peppers in it. It was okay. I found the prices to be a little on the expensive side, especially for the produce. Feeling a bit disappointed and wanting some adventure, I suggested we take a road trip…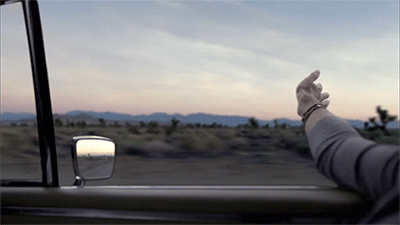 …And that's exactly what we did. We threw on some beats that we could vibe to and drove to the northernmost part of Qatar, Madinat Ash Shamal. As we drove farther away from Doha, the buildings disappeared and so did the houses. All that was around us was desert and one highway. As we reached Ruwais, some houses began to show up again and then there was a port. A drive up the coast led us to a beach area with sand that reached far out into the Persian Gulf and way into the distance was the illusion of land. While posting our location on Facebook we noticed that we were only 36 miles from Bahrain International Airport. This discovery made me feel kind of sad; to think that the Kingdom of Bahrain was so close yet politically so far away. Last year, my sons and I visited that country with a visa on arrival, and now as a resident of Qatar, I would be denied this same visa despite my U.S. citizenship due to the blockade against Qatar. So much can happen in one year.
After we left the beach we headed west to Al Zubarah, Qatar's Unesco World Heritage site. The fort is a historic Qatari military fortress built under the oversight of Sheikh Abdullah bin Qassim Al Thani in 1938. It was built on the ruins of an older castle that had been destroyed. The fort is open daily and is free to the public. You can learn more about it and how to get there by clicking here. A short distance away from the Fort was the walled coastal town of Al Zubarah which is now being excavated and is protected by a fence. The town flourished as a pearling and trading center during the late 18th and early 19th centuries. The layout of Al Zubarah has been preserved under the desert sands which swept over it after it was abandoned in the early 20th century. Read more about Al Zubarah here.
After learning about pearl diving and some of the animals that surround the area, we wanted to keep driving around the coast line of Qatar all the way home but realized that we were low on a gas and did not know where the next gas station would be along our journey so we turned around and headed back the way we came. Hey, who wants to be broke down in the middle of the desert, not me. We will save the rest of this adventure for another day.
to be continued….