***** Disclosure: This post was written while I was visiting home over the summer and it never posted probably because I was debating whether to post it or not but…******
I was so anxious to return home, see my husband, shop, sleep in my own home that I've lived in for 14 years, eat food from my favorite restaurants, see some of my family and of course throw something, anything, almost nothing on and go outside, but after a few weeks I was ready to go back.
For one thing I was/am spending way too much money.  One of my favorite things to do in life is shop and let me tell you having the ability to buy things you want will cause you to buy things you don't need.  Why? Because you can.  I enjoy shopping in America more. One of my other favorite things to do is eat. I've cooked maybe 3 times since I've been home and hubby has cooked a few more times than that.  I've been eating what I want from where I want whenever I want. I need to go food shopping and cook my meals, it's healthier and cheaper but my sleeping habits are so off that blah blah.
I am lazy, there I said it! I can feel the pounds attaching themselves to me and holding on for dear life. I sleep, eat, shop and watch tv.  The other day I thought Maury was telling me that I am not the father!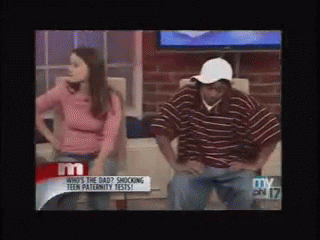 I am not being very active. The gym in my new apartment compound in Qatar haunts me in my dreams.  It's beckoning me.  I need to get back into a routine.
I am so tired of the violence and black white thing here.  What is it with America and racism, one of my fellow coworkers asked me. I didn't know how to explain it because it's like non existence in Qatar.  We are all people, we eat the same, work the same, shit the same, ultimately have the same goals 'to be happy' so Why, why does it matter what shade of color I am?  Everyday when I turn on the television there are reports of violence and senseless killings most as a result of using a gun.  It's sad and depressing.
The service in Qatar at regular places is 5 stars. The service in America is 3 at best. Yes, Qatar has made me   
I can hear y'all singing the song.
When I came back here, I don't know why I was expecting anything to have changed.  My neighbors are still fighting outside, then lovey dovey the next day.  Everybody's still doing the exact same thing they were doing before I left. The people that walked out of my life are still out of my life.  Life goes on right…
Don't get me wrong, I have/am enjoying my VISIT here and I know once I go back to Qatar, I will miss it here so much for many reasons but for now I'm missing the life I've made in Qatar.